This post may contain affiliate links, which help to keep Discerning Cyclist rolling. Learn more.
Just a few weeks ago, I wrote a post about why I choose to commute with a hybrid bike.
I'd had my trusty B'Twin Hoprider 500 for about four years or so, but this week our journey came to an end.
On Tuesday evening, I cycled down to my local beach for a couple of hours, locking my bike* on the quiet adjacent road nearby.
When I returned, I was perplexed to see that my bicycle was no longer there.
What was more confusing, was that my bike lock was completely intact and still wrapped around the lamp post where I had left my bike.
My Theory
I should point out at this point that this is a generally quiet, rural area, although it is popular with party revellers in the summer months. It's not the type of place you typically find opportunistic thieves loitering.
So, what happened to my bike?
I've mentioned many times on Discerning Cyclist that you should always make sure to lock the frame of your bike to a secure object when you've completed your ride, and not, say, to a wheel or something that be easily removed.
And I tend to follow my own advice.
However, in my haste to make the impending sunset at the beach, I believe – that unless someone has sawed through the frame of my old bike in order to remove it from the post – that I may have made a cataclysmic error during the locking process.
No, I didn't secure the lock to my bike wheel. I believe I may have not wrapped the lock around any part of my bike at all. My theory is that after wrapping my lock around the thick lamppost, I then simply secured the lock between the frame of bike, without actually wrapping the lock around the frame too.
A moment of pure idiocy, I hypothesise.
Anyway, around 90 minutes later I returned to my bike, only to find that it had vanished, while my bike lock was still safe and soundly secured around the lamppost.
As I said earlier, this isn't what you'd consider a particularly interesting spot for professional bike thieves, as you don't normally find many bikes around here. However, we are in the midst of Spain's busy tourist season, with no shortage of revellers having enjoyed a few tinto de veranos at the beach during the day.
My guess is that after departing the beach in a somewhat inebriated state, somebody – in lieu of a taxi and with an impressively beady eye for an intoxicated soul – has spotted my unlocked bike and used it for the next part of their journey. A joy ride, if you will.
Urgh.
Naturally, I quickly scoured the neighbourhood in the hope that my bike may have been discarded nearby. Sadly, it hadn't. Nor was it discovered on a large scale search the following day.
I take full responsibility for not concentrating sufficiently when locking my bike. But you're still a dick, bike thief.
Every Cloud…
Luckily, the bike formerly known as "mine", wasn't expensive. Nor was it in a good state of repair. It had been a bit mistreated over the years and left outside too often without protection, meaning it had reached an unwarranted level of rust and creakiness.
I'd been telling myself for quite a while that when my bike habits got better (i.e. ensuring it was sheltered from the elements and regularly maintained), I would then trust/treat myself to a new bike in the knowledge that it would stay in good condition.
However, having become bikeless due, in part, to my ineptitude, the timeframe for a new bike was obviously moved forward.
READ: Best Bike Locks with Alarms
So, the next day, despite still grieving for my former ride, I made the trip to Decathlon to buy a new bicycle.
I wanted another hybrid bike as roads here aren't always the smoothest and I do go a bit off-roading sometimes. However, I was looking for something a little bit lighter and faster.
And so, I settled on… the Riverside 500 Hybrid Bike for a pretty reasonable £279 (read the review here).
My New Bike Resolutions
While I didn't "earn" my new bike as intended, I have made a commitment to my new bicycle, so that it doesn't ended up like its creaky predecessor:
I promise not to leave my bike exposed to the elements overnight and that I will wash my bike on a weekly basis and ensure the chain remains lubricated. I also promise to actually lock up my bike properly, and not simply lock up a lamppost unto itself.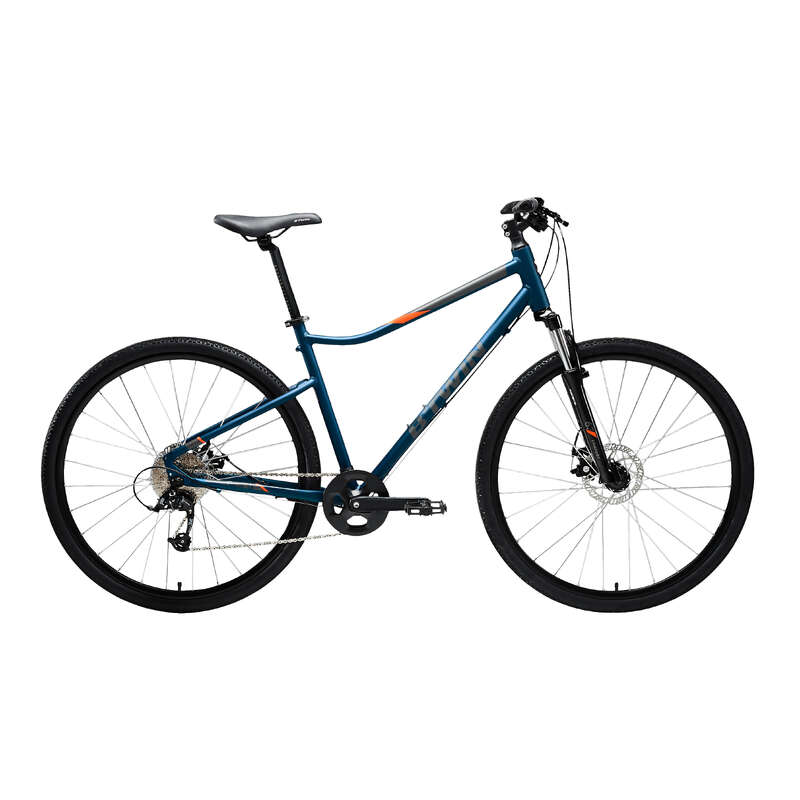 A lightweight 9-speed hybrid bike with front suspension. Features an ergonomic saddle and handlebars, as well as trail tyres making it suitable for multiple terrains.